This was our second year with our little "elf on the shelf", Gin. Our 4 lil monsters named her after my Maw-Maw's nickname. Gin can sometimes be somewhat of a naughty/silly elf, but our kiddos love looking for her throughout her quick stay to see what antics she's been up to while they slept. We opt to not use her to tattle on our lil monsters to Santa if they aren't behaving, instead as a continued fun way to keep the spirit of Christmas alive for them and yet another tradition for them to remember from their childhood. Of course they are able to pass messages along to Santa through her and they certainly take advantage of that opportunity.
These are the things Gin had been up to since she arrived on December 1st after we put up our Christmas tree until she went back to the North Pole on Christmas Eve this year.
12/1: Gin arrived with her Elf on the Shelf book for us to read.
12/2: She had a "sack race" with some of the girls' toys.
12/3: Naughty as ever, Mad's army men caught Gin trying to get into the gingerbread men.
12/4: It seems Gin is also a fan of Spider-Man and made herself a mask to hang out with him.
12/5: She brought our kiddos some m&m's and decided to have a few herself.
12/6: Gin loves to have stories read to her too!
12/7: Our girls found her in one of our Christmas stockings.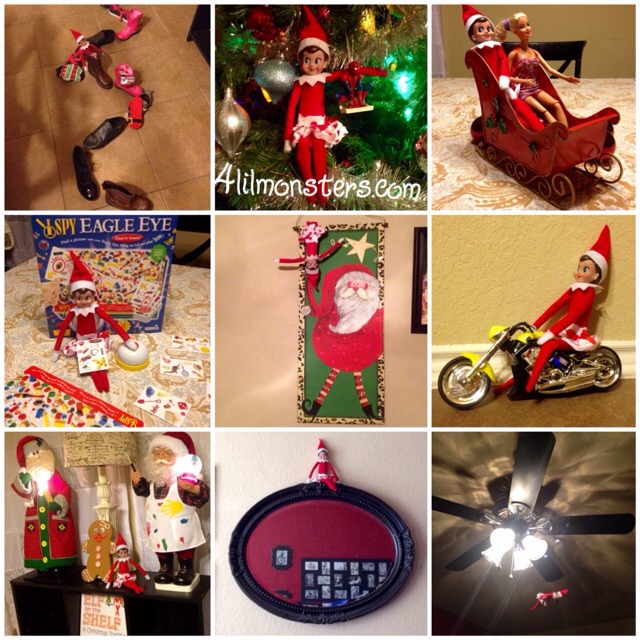 12/8: She made a shoe train & brought our lil monsters some new Christmas socks.
12/9: Once again she found a way to spend time with Spider-Man, this time in our Christmas tree.
12/10: A fun sleigh ride with Aub's barbie.
12/11: Playing "I Spy".
12/12: She loves finding Santa around our home.
12/13: She brought a new motorcycle like Paw-Paw.
12/14: She finally got to be by one of our gingerbread men.
12/15: Just sitting in our living room on a mirror.
12:16: One of their favorite finds this year, Gin was flying on the ceiling fan!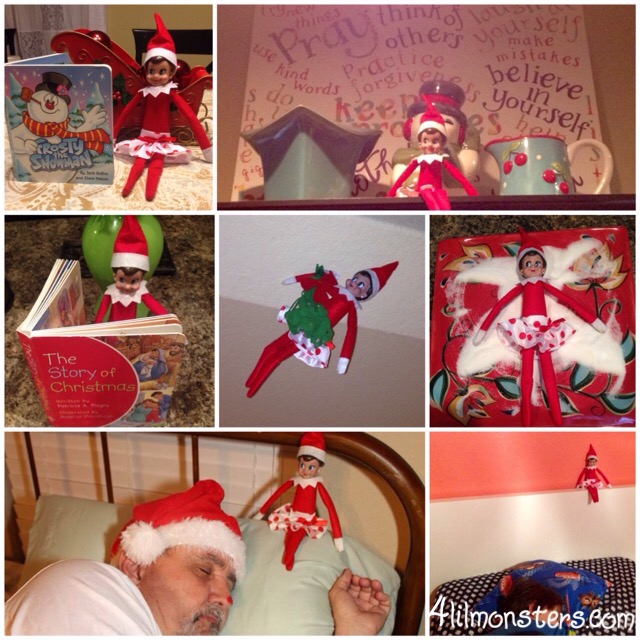 12/17: Bitty was rather excited to find Gin reading one of her favorites "Frosty the Snowman". We watched this classic COUNTLESS times this year!
12/18: Peeking from our kitchen cabinets.
12:19: Gin loves reading "The Story of Christmas" too and learning all about Jesus' birthday.
12/20: She even brought us a mistle toe!
12/21: Gin must miss the North Pole…we found her making sugar Angels!
12/22: She loves watching over our little lovelies while they are sleeping.
12/23: Gin simply had to be naughty one last time and painted Paw-Paw's nose like Rudolph while he was sleeping!
Our lil monsters will miss Gin until next year, but they were surprised to find presents from her next to Santa's cookie plate & empty milk glass…two new books & a family game.