I've really struggled with this one. For an entire year I couldn't find it in me to blog about the horrible motorcycle accident that nearly took my daddy's life ironicly on my mother in law's birthday last year on September 18, 2015, and did tragically take the life of his dear friend and fellow patriot guard rider while escorting a fallen soldier. It's a phone call no daughter ever expects to receive. While we were receiving the news that he was in an accident, another family was receiving the God awful news that we could have received the same night. I think that's where my struggle came in. I love blogging. It helps me get feelings out that I sometimes don't even realize I'm bottling up. Still I knowingly bottled these feelings up for 366 days and I know now as I type this, I still won't put into writing all of the thoughts I have. Yet there are things I do need to say. For my daddy, my sister and I, his grandchildren, and so many other people that genuinely love this amazing man that is my dad. When the accident happened we didn't find out for many hours. His phone was locked. Two fellow marines that stayed by his side in that hospital waiting to be able to use his finger print to unlock his phone to call me. The emergency card I had put in his wallet had gone unseen. These kind men didn't budge though. When they finally did get through to my phone my ringer was somehow off and I missed the call. An hour later I looked down and saw something that made me loose my breath. A typed out message of the voicemail that had been left. Telling me it was an emergency. I was 600 miles away from my dad. I felt a million miles away. When I got to him the next day I never left his side. For 10 days I slept in his icu room with him. Refusing to leave his side for more than the few minutes it took to grab food from downstairs or get cleaned up after they got him as comfortable as possible at night. I updated Facebook diligently, trying my best to keep everyone that cared updated, and yet keeping my main focus on him where it belonged. I can't really bring myself to look at the Facebook "on this day" memories right now because it's days that were some of the hardest I had ever experienced, even more so the worst our daddy had ever endured. I so wanted to take away his pain. Switch places with him even. My heart ached for the family that was having to make funeral arrangements as doctor's were telling us he wasn't out of the woods and still may not survive. I had to call my husband and tell him to bring our babies to see their Paw-Paw. I had to call my son and let him FaceTime him for what could have been their last. It was all so very awful, I can't even dive into all of the little details in full. The details that stay in my mind. The ones that make me so thankful for every single day I'm blessed to still hear his voice. I never did share all of the photos from the hospital or of the accident scene. I don't ever intend to beyond the few select photos I'll share in this blog.
This is the first post I shared asking for prayers.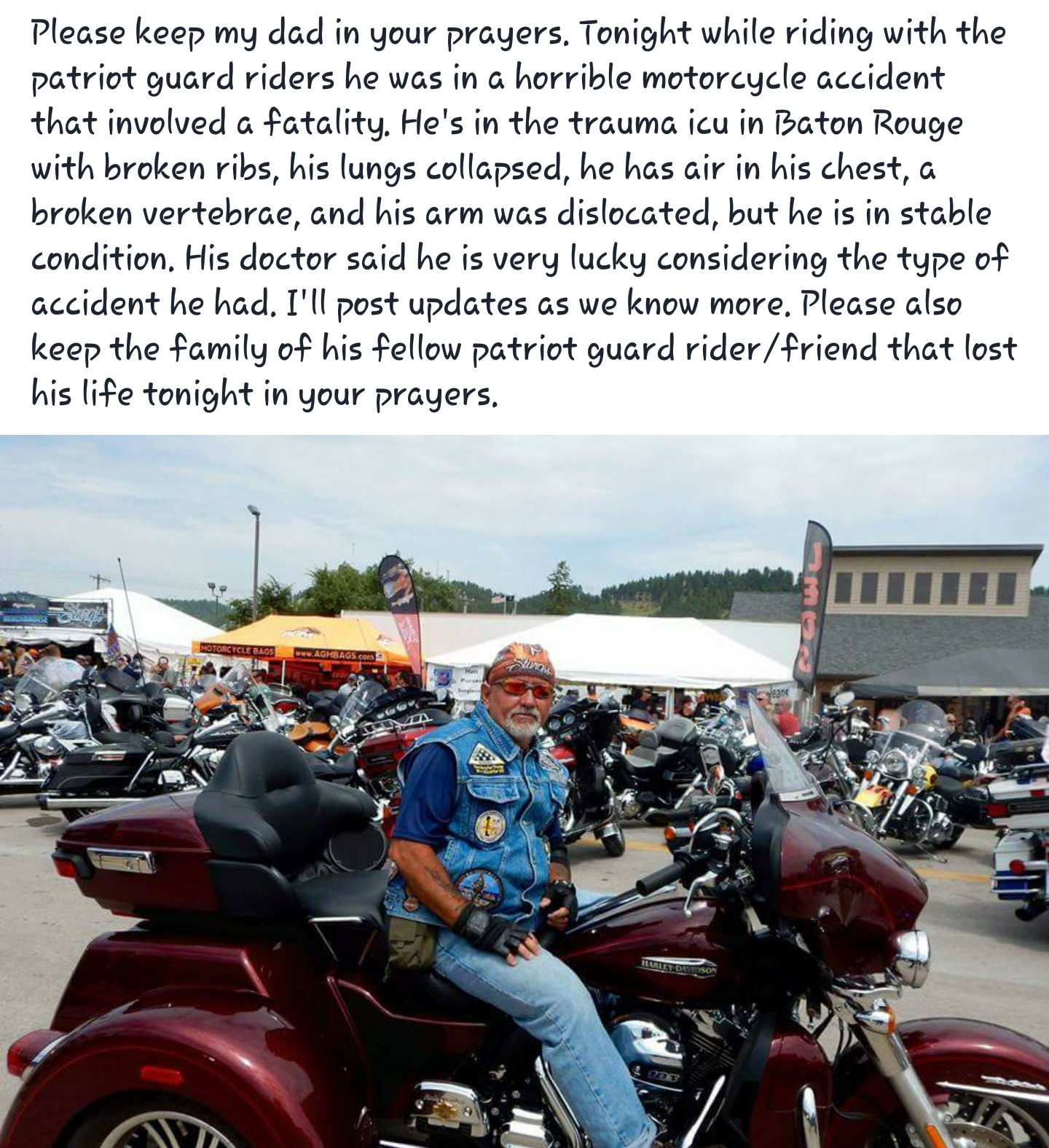 Thankfully it turned out his back wasn't broken. It was a knicked vertebrae. The broken ribs were 13 some in multiple places. I chose this picture because it had been taken just weeks before when he finally made it to Sturgis. He was beyond thrilled and had just got his new trike. We went down to see him off and celebrate his 62nd birthday a little early. It was an exciting time for him. Now I was using it to tell everyone he was in a trauma icu fighting for his life.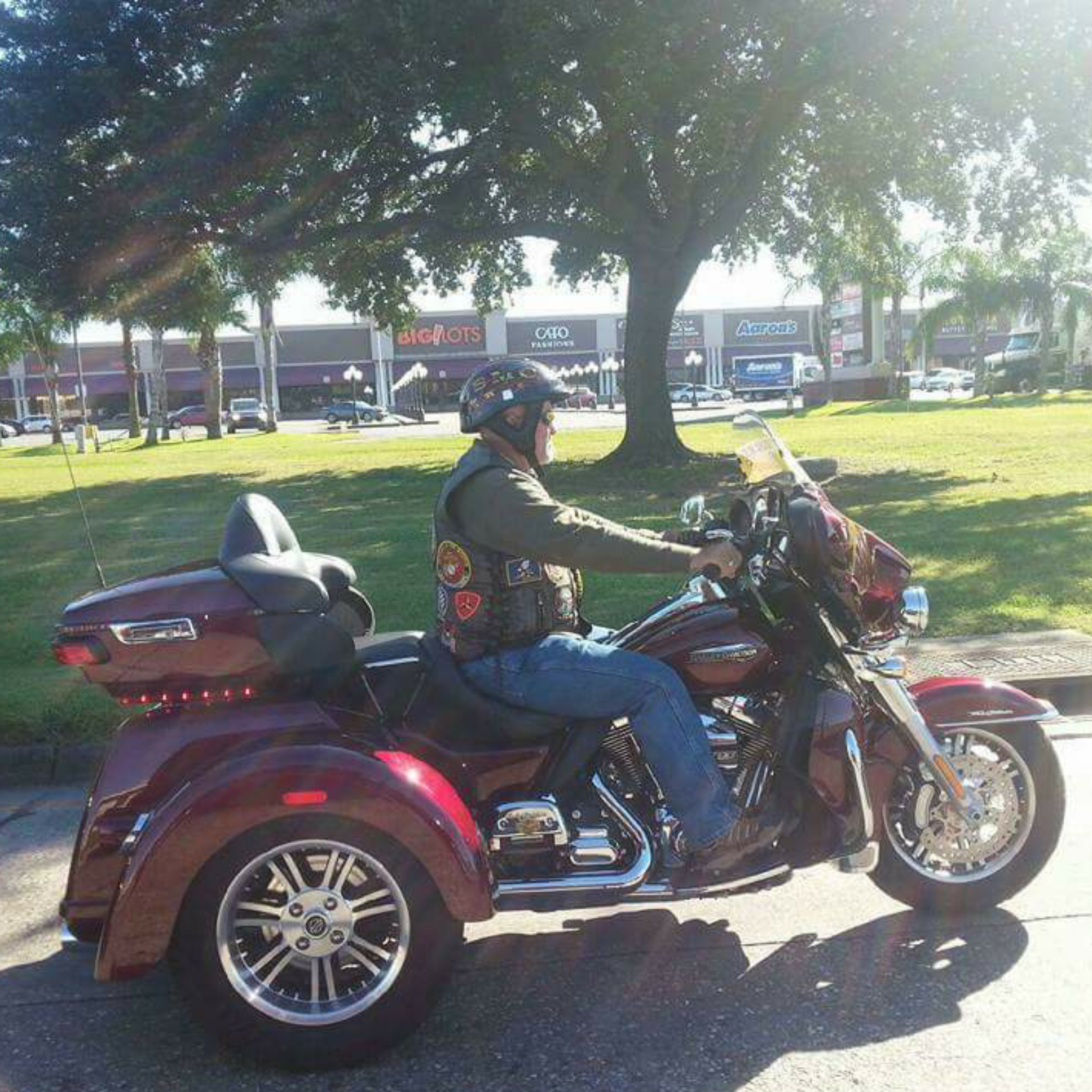 This is the last photo someone took of him literally within hours of the accident riding his bike. My Nana was riding next to him and snapped it. There are no words to describe how thankful I was to have this as I sat by his side in that hospital praying to God endlessly that he would pull through.
The next two photos are the ones that are some of the hardest for me to share. It's a very harsh reality of how close we truly came to loosing him.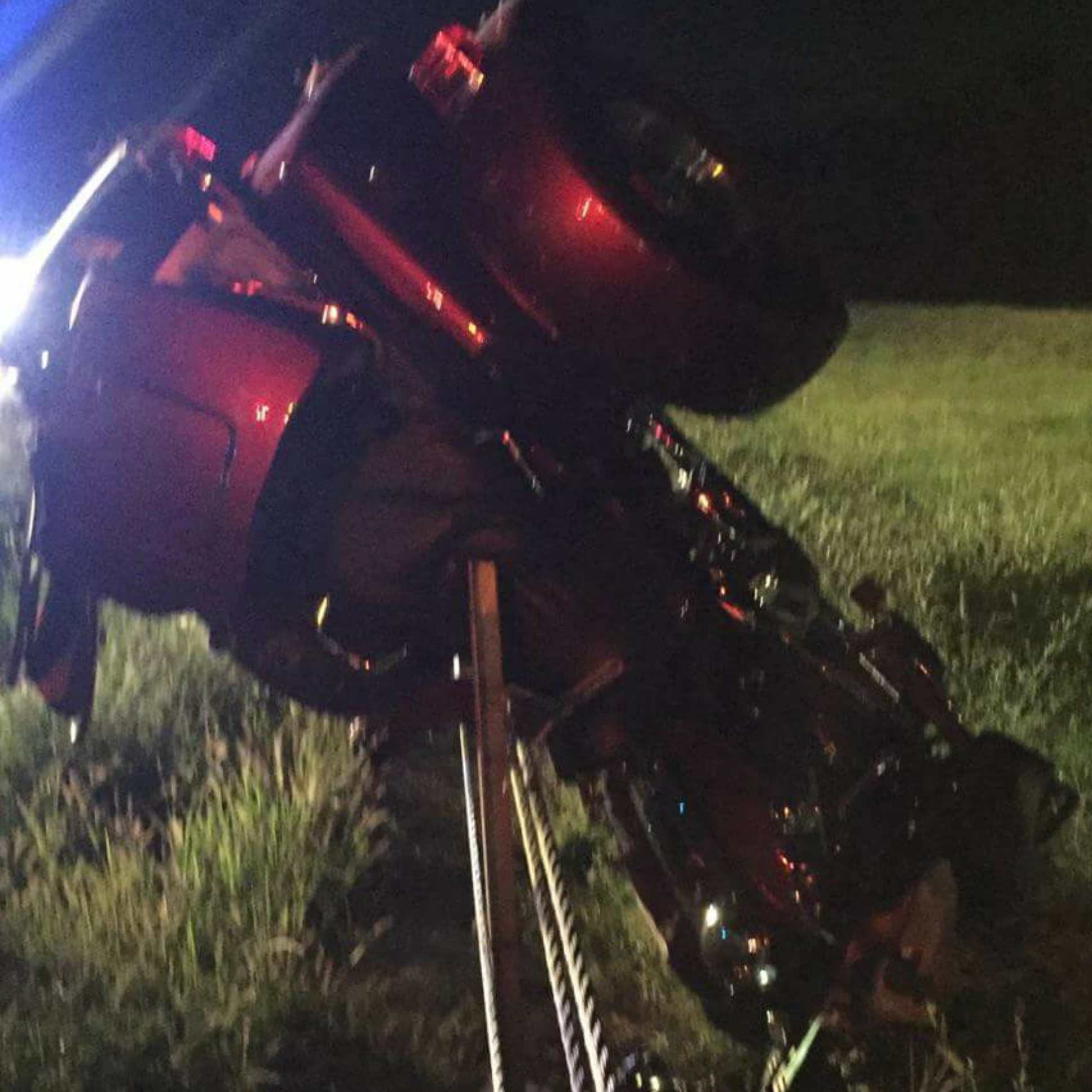 His bike was impaled on a guard rail after he was thrown from his bike 20-30 feet in the air according to witnesses. It's a miracle his injuries weren't far worse. It's a miracle he survived according to the trauma doctors.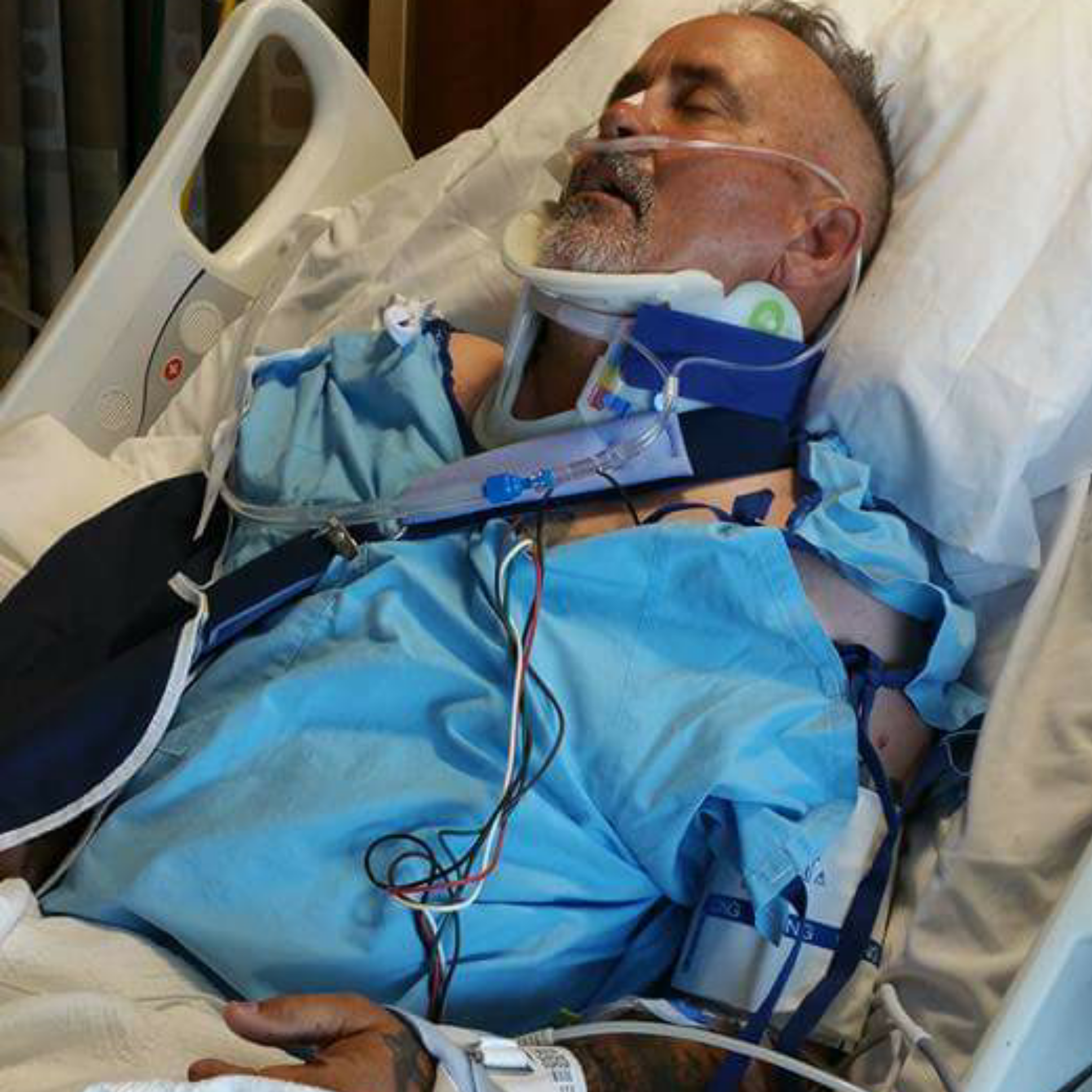 This is the first photo I took of him before he was even alert enough to know I was there. This is far from the worst we saw in that room. During those days I watched the strongest man I have ever known go through the worst days of his life. He truly had to fight to survive. I'm so thankful he never gave up. I'm also thankful for the constant flow of people that visited and checked on him daily.
While I prepared to drive my daddy with all of those broken ribs and arm the hour and a half home in rush hour traffic with my husband and our children I was both elated and terrified. So scared I would do something to cause him more pain or harm. Thankfully he was able to sleep through most of that drive.
The next few months were rough. Some unspeakable moments, or rather too personal to share. Hard goodbyes when I had to leave him and come back to Texas after not leaving his side for three weeks. Going back down a few weeks later to bring him to his friend's funeral. Watching him in so much pain, yet determined to hold a flag in honor of such an incredible man. Later having his surgery on his shoulder. Taking him back to Texas with us to take care of him through more of his recovery. Slowly but surely his strength grew. He was allowed to go back to work. Yet the pain, an endless reminder of that horrible night will forever be with him. Both physically and mentally. This last year has given us many things. I've been able to spend more time with him over this last year than I ever have in the years since I moved to Texas from New Orleans. Granted we've always tried to see each other as often as we could, but this last year has been different. We have made sure to spend as much time together as possible and what I'm about to share next are all of the blessings I can hardly count. This is my daddy. This is the man that never gives up. This is the man that is a marine, a patriot guard rider, a dad, a paw-paw, a great Paw-Paw, a father in law, a brother, an uncle, and friend to so many. This is only some of the cherished memories we have made over the last year. The man that through endless pain continues to make as many memories as he possibly can.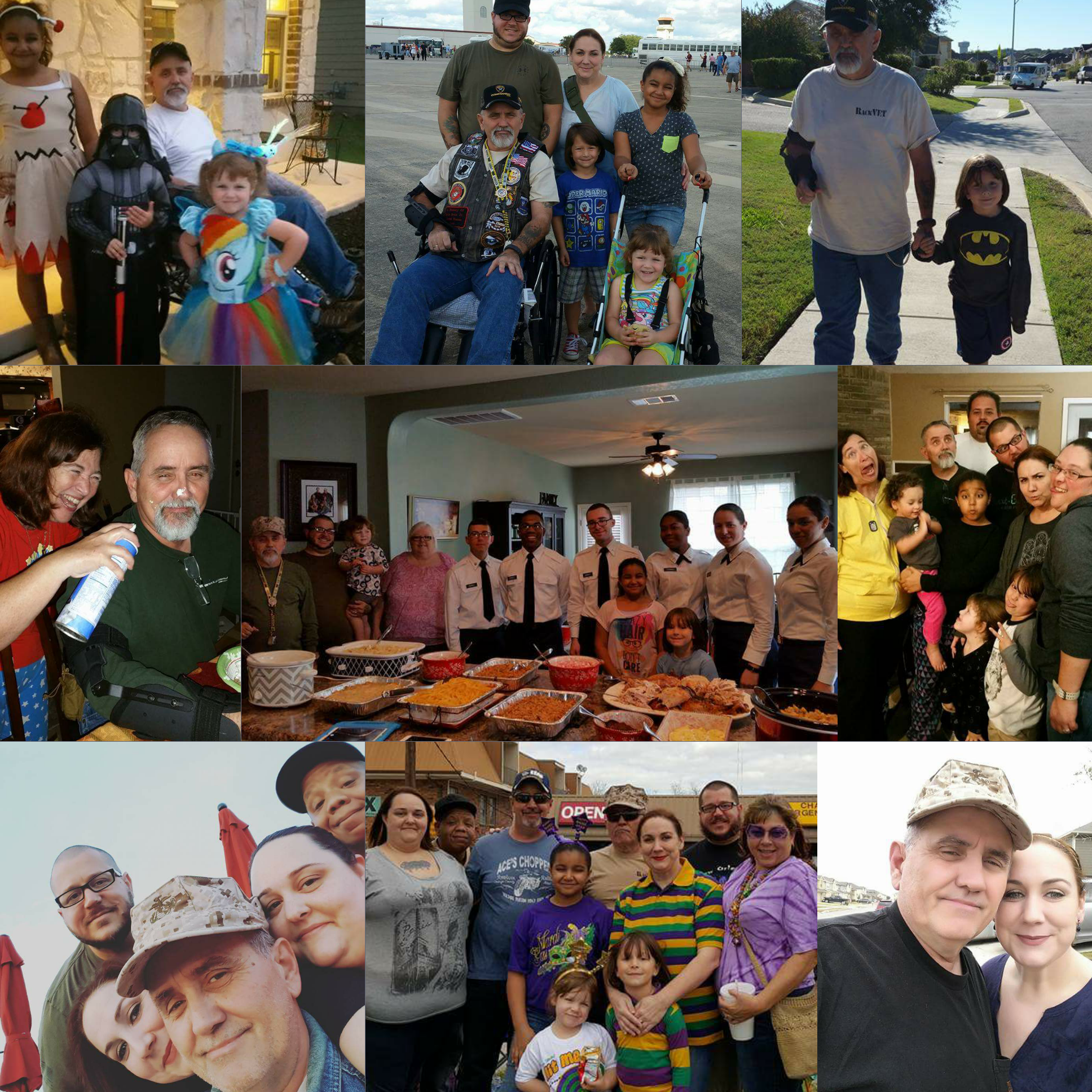 He was able to be here for Halloween. My husband pushed him around the neighborhood in a wheel chair so he could watch his grand daughters trick or treat. We took him to a local air show. Some days he was up to walking his grandbabies home from school with me. He had time with Gina. Was here for Thanksgiving and loved being able to visit with the soldiers we welcome into our home each year. We celebrated a late Thanksgiving with Gina's family in Houston. Weren't able to spend Christmas together due to recovery from his surgery. But were able to spend Mardi Gras with him.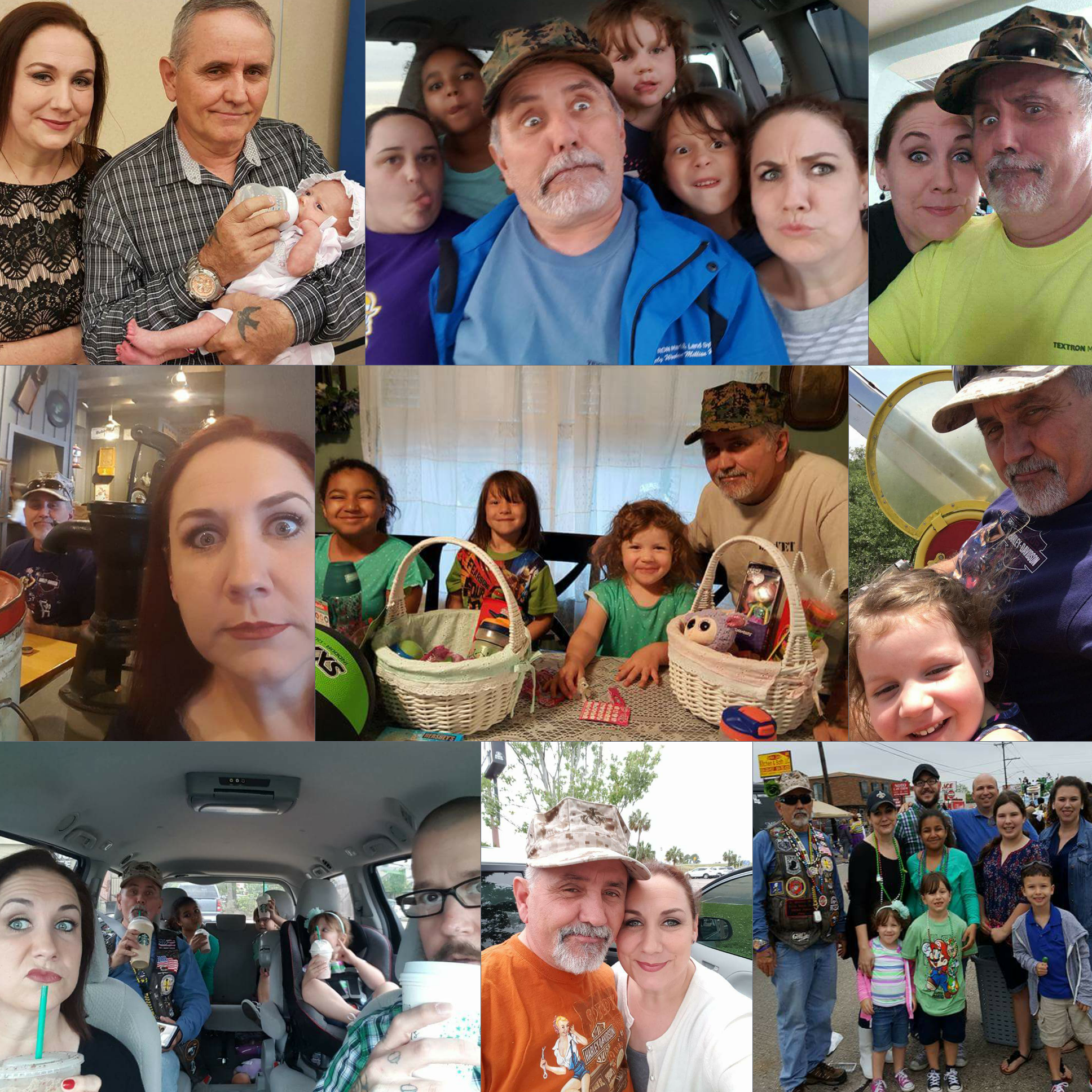 He was able to meet his Great Granddaughter, Adelina, at his oldest grandson's wedding. We took him to the drive in. Had many silly father/daughter moments. He dyed Easter eggs with the girls and got to watch them discover their easter basket the next morning. We went back home for the Irish Italian Islenos parade with him.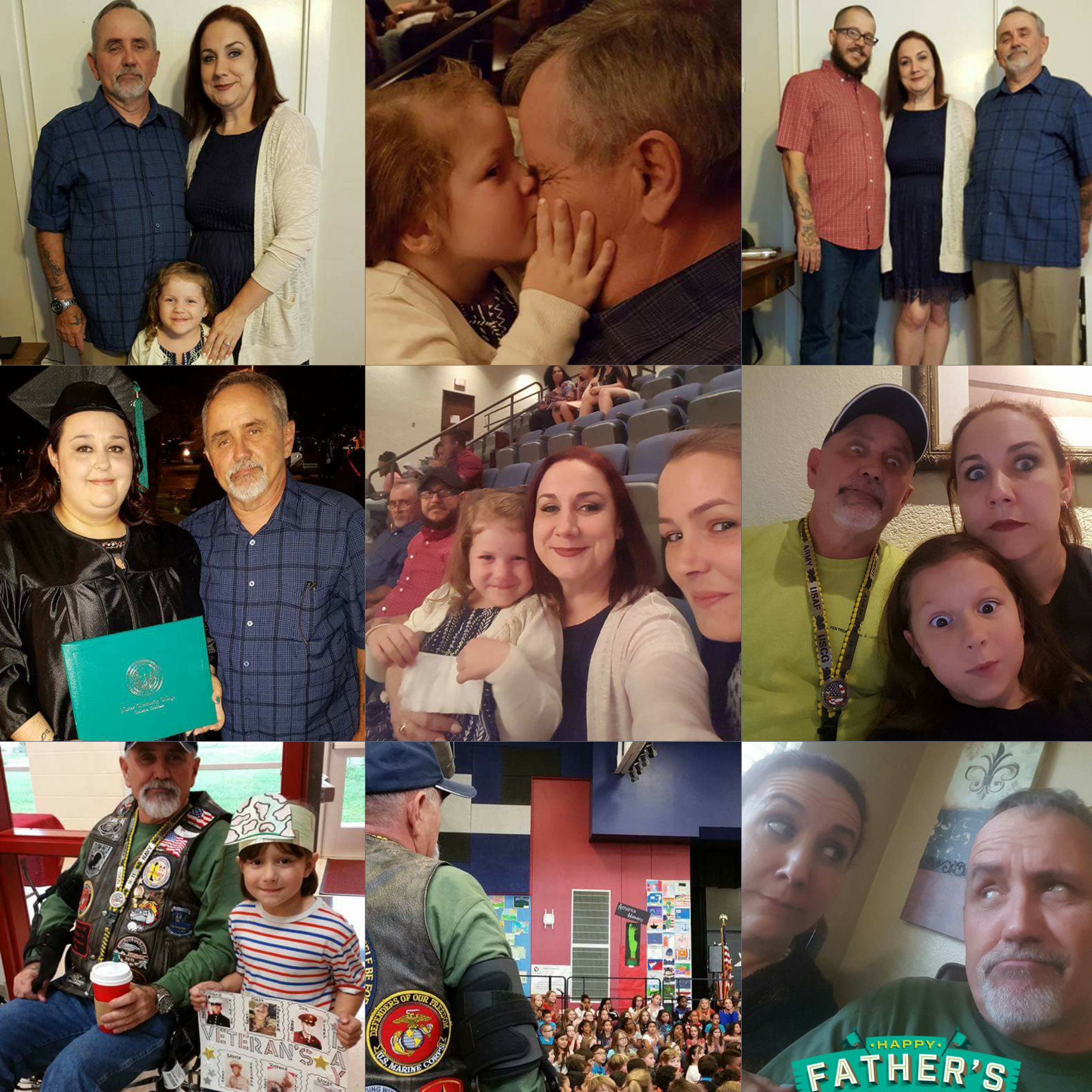 He was able to watch Betty walk across the stage. Spent lots of time with both my sister and I. Had time with his two grandsons that live close by. Was able to go to the Veteran's day programs at Aub & Mad's schools. I was able to surprise him and send him to Houston for a Father's Day getaway, little did he know Aub would be making the trip back with him from New Orleans and we would be meeting him there too for a weekend of fun with family friends.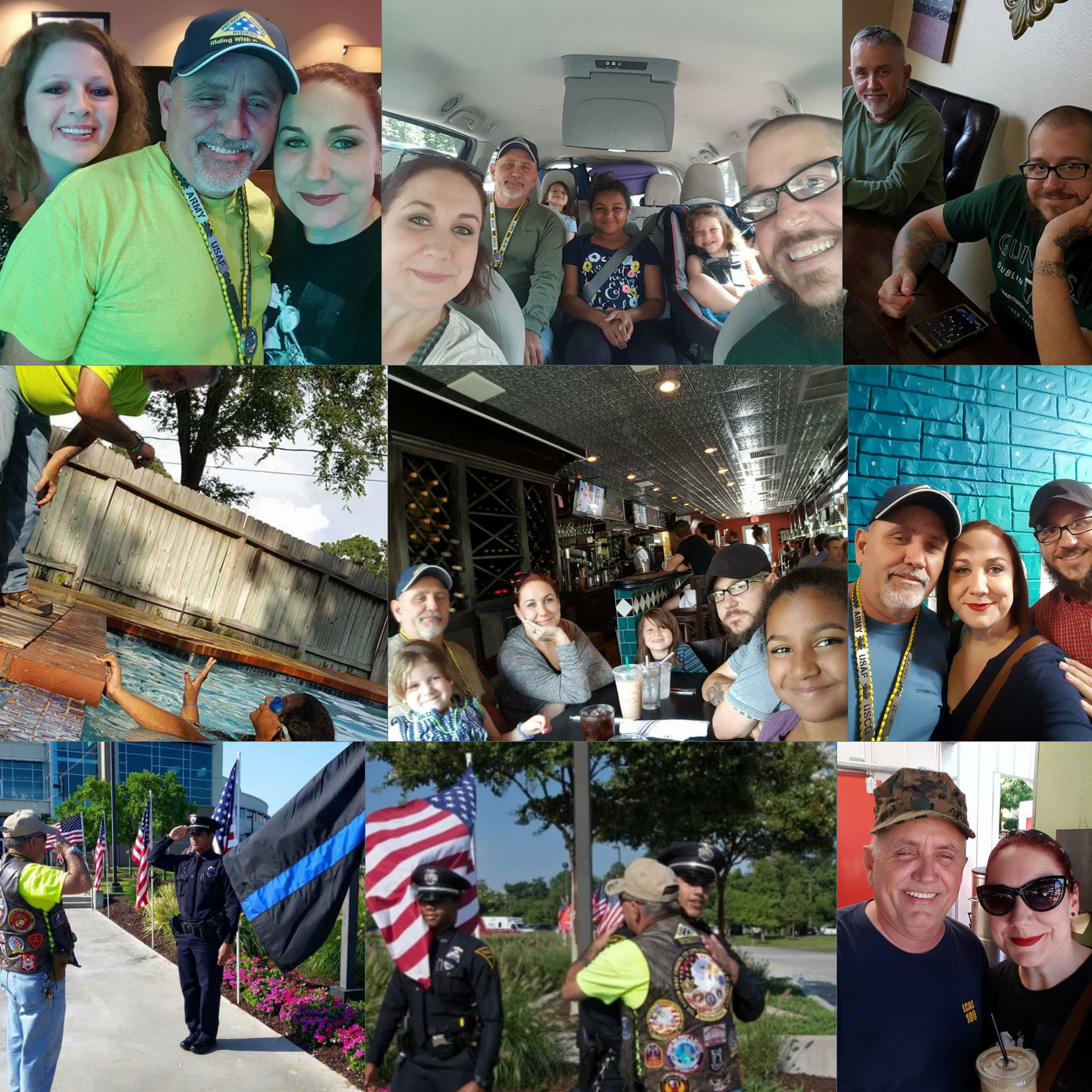 He's had tons of bonding time with his son in law, that let's be honest is his son as far as he's concerned. He taught Aub some tricks he learned from diving all his life with his Dad on how to hold her breath longer while swimming. Matt & I took him to see his first street punk show, Noi!se. Surprisingly enough, he really enjoyed it! He's done what he loved most, devoting as much time as he could to the Patriot Guard Riders. We made a few trips to Austin and he even got to put a coin on Chris Kyle's grave.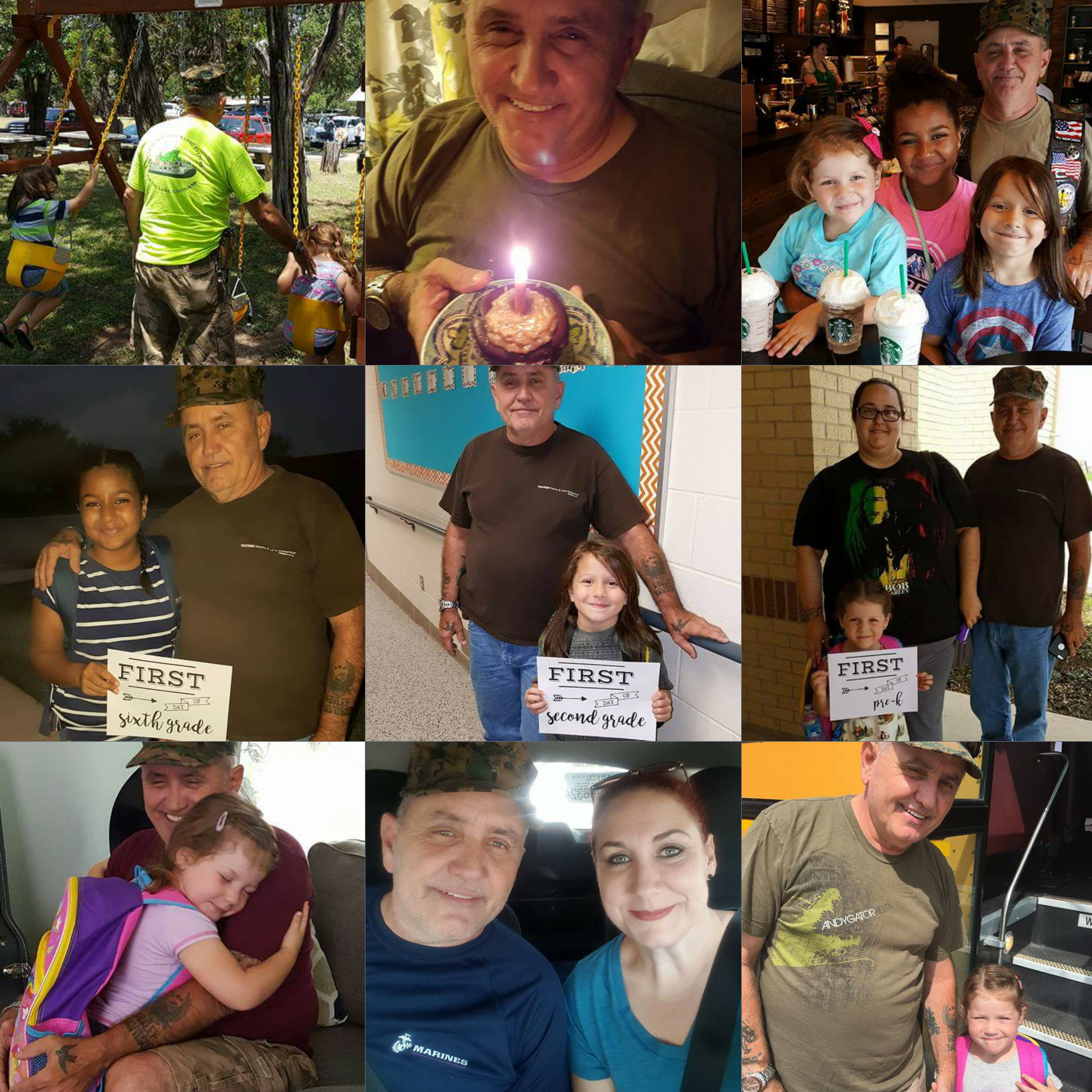 He was able to swing his grandbabies and swim in a river with them. At midnight on his 63rd birthday while pretending to stay up with him to watch Law & Order I surprised him with a German chocolate cupcake. He didn't see it coming, because only he and I were awake. He got to see his grand daughters head off to their first day of sixth grade, second grade, and pre-k. He got tons of hugs from his grandchildren. Him and I explored various antique shops in New Braunfels & Gruene or took in a movie while the girls were in school. He was able to greet Bitty as she got off of her school bus. I really shocked him one day as he was about to take a nap and I told him let's go to a shooting range with my friends. And somehow he survived multiple trips to Schlitterbahn this summer.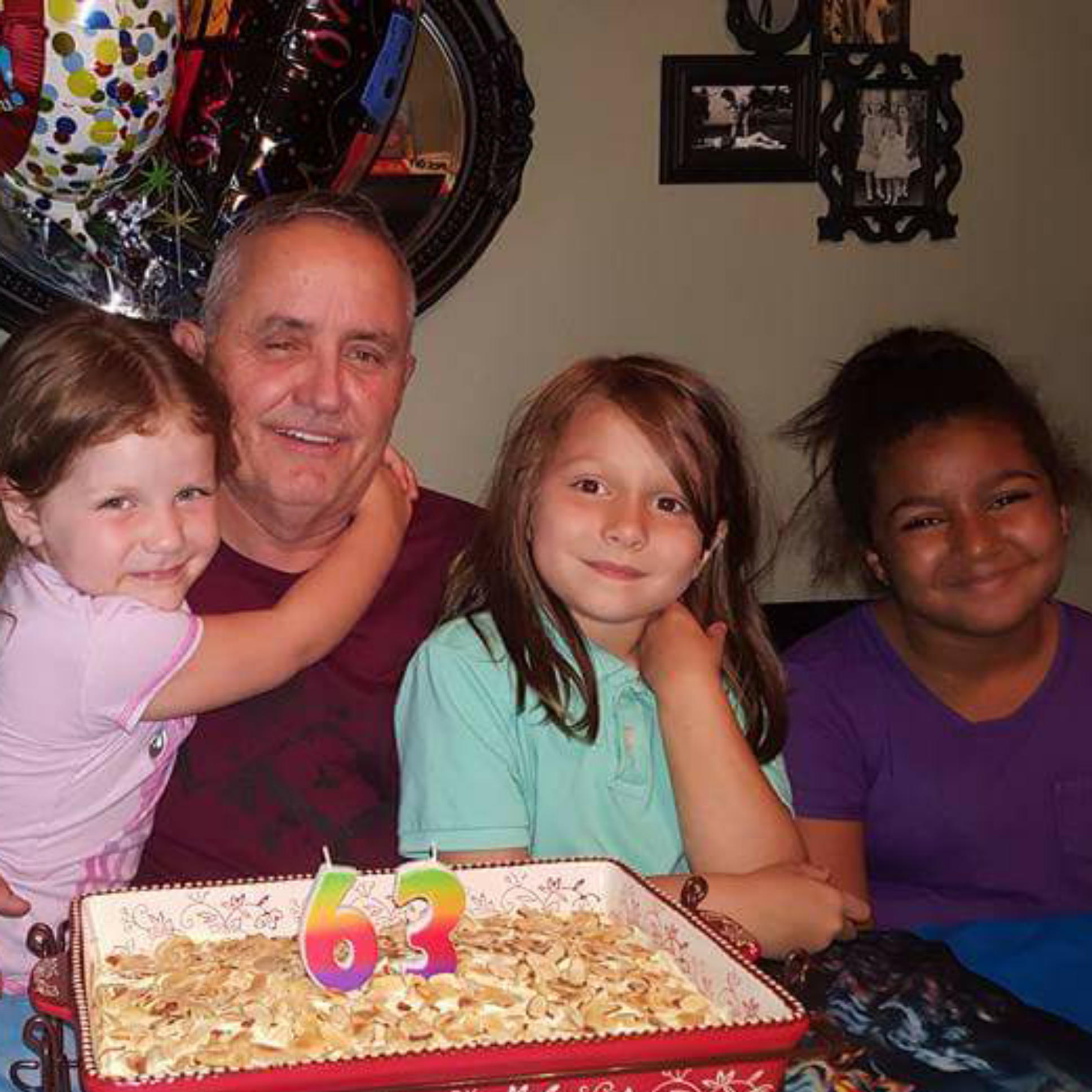 Most importantly, I was able to bake him the butter almond cake he wanted. Cook him the pork chop, buttered rice, & peas that reminded him of his mama. And watch our little girls swarm around him to blow out his candles for his 63rd birthday!
My dad is an incredible man. Full of love and compassion. Over the last year he has endured some horrible moments, but oh so many good ones. I thank God for every last one of these memories we were able to make. And I pray for the family that no longer has memories to be made with the gentleman that lost his life that tragic night, doing what he too loved. Honoring a soldier along side his fellow patriot guard riders.