Can't say I've knowingly baked a Jewish bread until this one. Also can't say I've baked a bread that tasted better! Our lil monsters flipped over it. I guess it's a good thing I decided to bake two loaves the first time. It was a very simple bread to make that looks far more difficult than it was to bake.
Ingredients:
1tbsp yeast
1 cup warm water
3 tbsp sugar
1 1/2 tsp salt
1/3 cup canola oil
3 cups all purpose flour plus 1/4 cup
1 egg for basting (can substitute olive oil for vegan)
Sesame seeds
Preparation:
In a gallon ziplock bag, add the yeast, water, sugar, salt, oil, and 3 cups of flour.
Give the bag a little shake. Don't work too hard. Remember it's a lazy Challah!
Place the bag in a bow of warm water for 30 minutes.
Remove from bowl. Shake, release air from the bag. And place on the table or coutnertop for 1 hour. Flip the bag every 20 minutes throughout this hour. The dough should be very wet. It will start to bubble and self knead.
After the 1 hour, add 1/4 cup flour and give the bag another shake. This makes the dough not stick to the bag.
Leave the bag for 1 hour and 30 minutes to rise. It should still be a wet dough. If it's not rising, flip it over and knock it down. If the dough is wet, the recipe will turn out amazing.
Preheat the oven to 300° (I set it for 275° on our oven that likes to burn things otherwise
On a well floured surface, separate the dough into three sections and stretch them out to braid.
Baste with egg (or optional olive oil) and sprinkle with sesame seeds. Leave to rise for 15 minutes before it goes in the oven.
Bake on a nonstick tray for 40 minutes or until golden brown on top.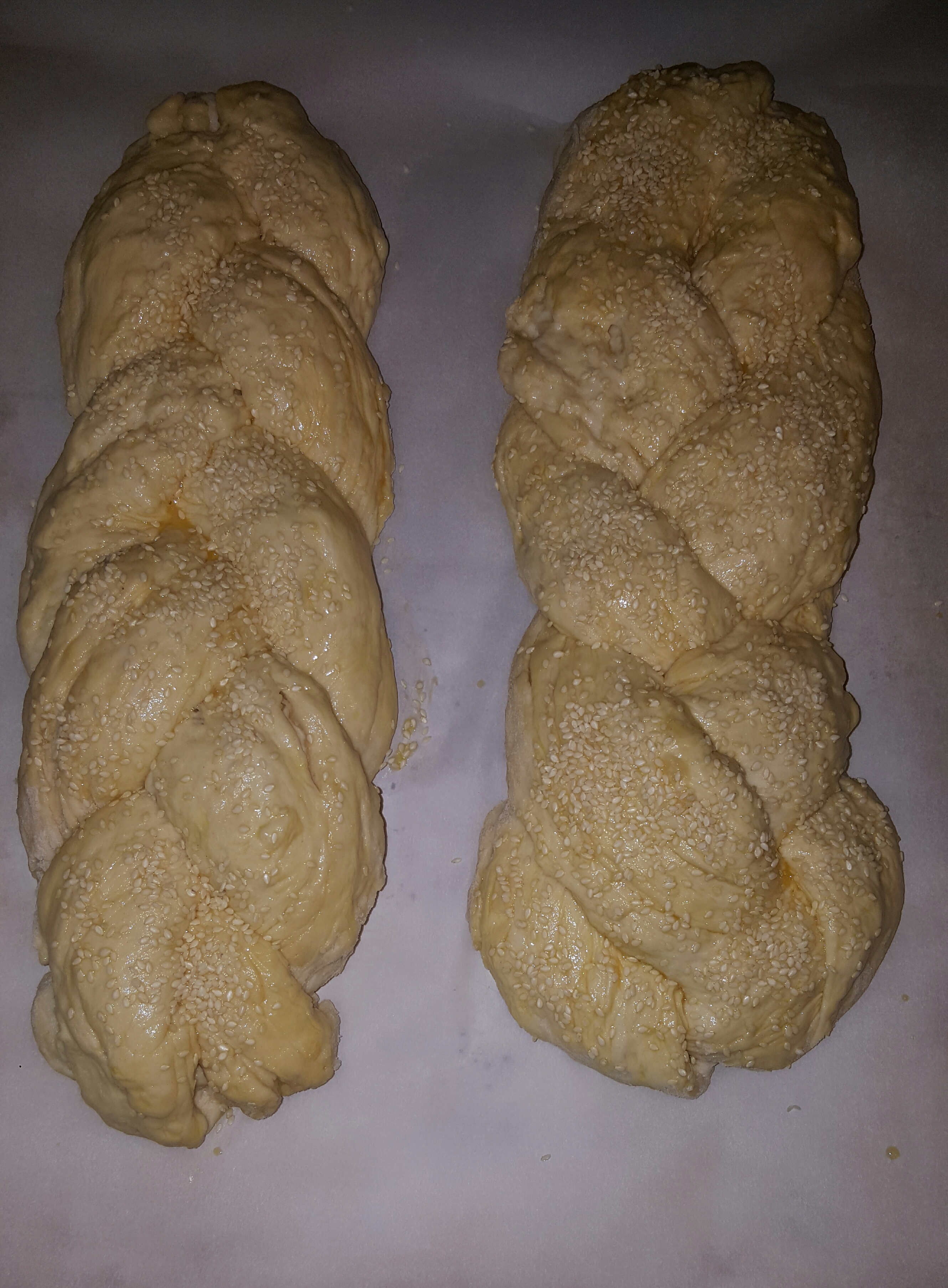 Side notes:
It's a very easy bread to bake, however it's a little process. So I'll likely make two loaves each time and freeze one.
It's a bit of a heavy bread, but I can't stress how much our children loved it!
When braiding the bread sort of fold the ends under.
Each bag yields 1 loaf of bread
I baked it for 40 minutes at 275°