Bitty's birthday was earlier last week. Since we were celebrating her birthday the following weekend we had a mini party on the day of. Her big sisters were off of school that day for MLK day so that was a little bonus! On each of our lil monsters' birthdays we measure their height up in our laundry room to see how much they have grown. Bitty is learning our tradition and couldn't wait to have her turn.
She's grown quite a bit since we've moved into our home a little over two years ago.
That evening we celebrated with cupcakes that she got to help me make! We used two of the girl's iPads to FaceTime Paw-Paw & GiGi so they could join in the fun too. Bitty sat in Aub's lap just giggling and covering her mouth as we sang to her. Such a little cutie our three year old is!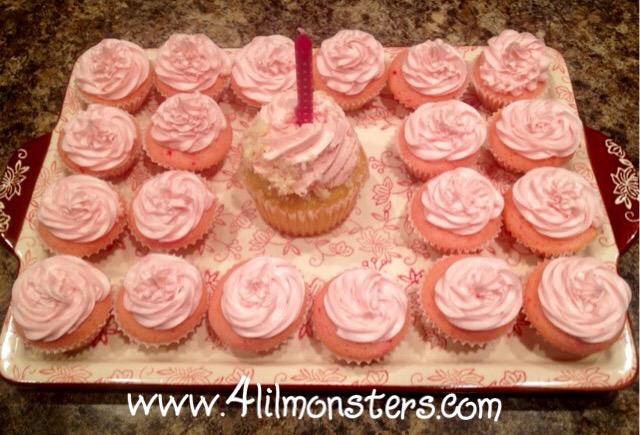 A few weeks earlier I had already begun planning her party. Bitty LOVES Stawberry Shortcake and watches it daily on Netflix on her iPad. So I was beyond excited when she asked for a "Strawberry cake birthday". Thanks to my computer savvy hubster (a skill I seriously lack) I told him what I wanted and he threw this precious invitation together for me. I seriously don't know how he makes it look so easy.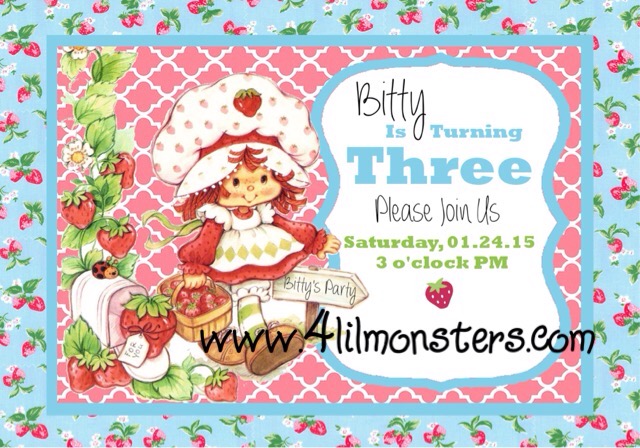 We printed it on ivory paper to give it more of a vintage feel. I found a strawberry stamp at a local craft supply store to give the ivory envelopes the final strawberry shortcake touch.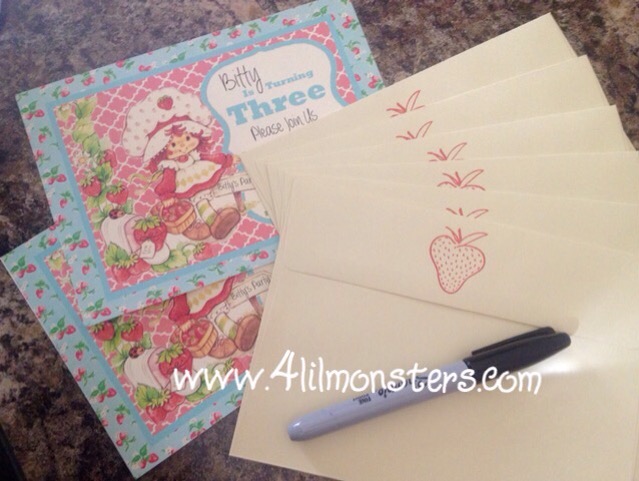 The only downfall with opting for the vintage Strawberry Shortcake theme over the modern one was the lack of availability of store bought decorations, but I wasn't about to let that deter me. I just made it all myself, of course I had some help from our three little ladies & Maw-Maw too. Party hats, party favors, all of the decorations, food tents, the table cloth, & the matching curtain for the back drop. The morning of I printed out some coloring pages on ivory card stock for our three little lovelies to color for us and hung them up in the kitchen as well. A lot of work, but a lot of fun. So with that said, here are the things we threw together!
Party hats with Bitty's favorite Strawberry Shortcake characters…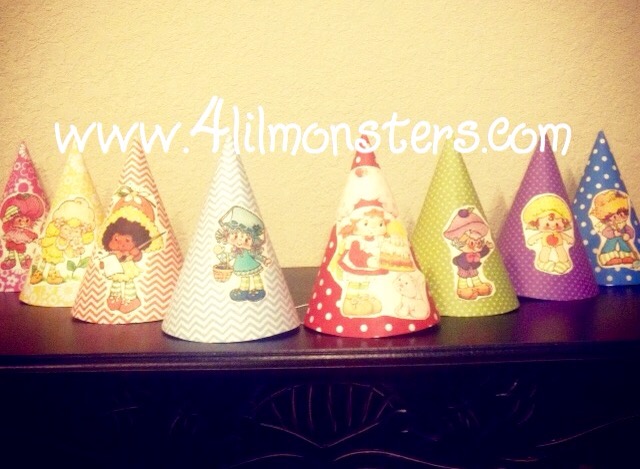 A big Stawberry hanging on our front door to greet our guest…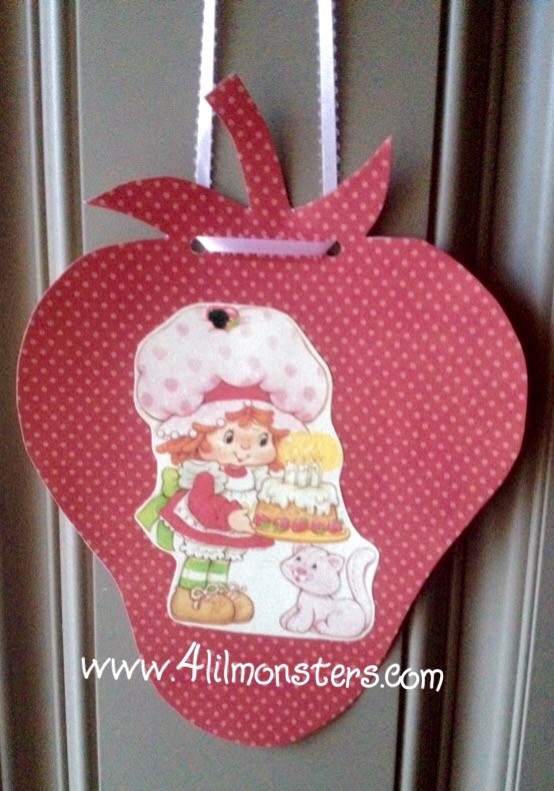 I forgot to take pictures of all of the strawberries we made. But we had several hanging throughout the dining room, kitchen, & living room with the characters on them. Along with a banner that said "Bitty is 3!" And some spelling out "Three".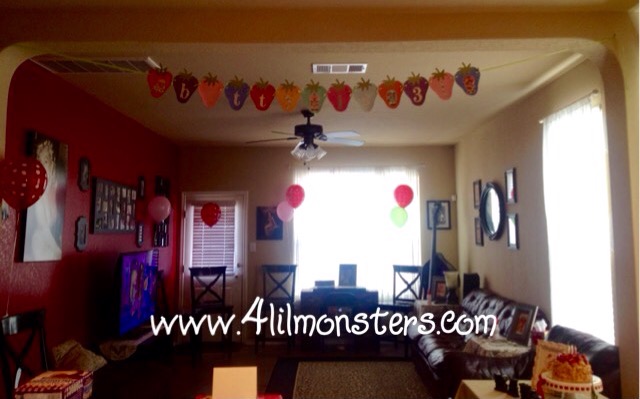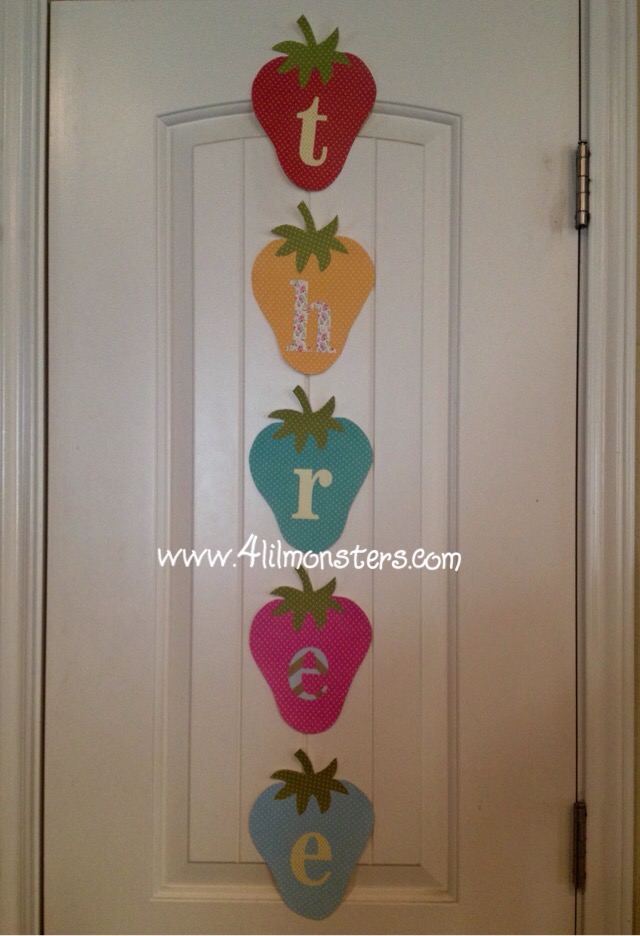 For her cake table I used a vintage fabric that was a soft sage green with white polka dots for the table cloth & curtain behind the table. Unfortunately I didn't get a good picture of that. I framed a strawberry shortcake picture, and covered a #3 that I found at the local craft store with paper & a little Strawberry Shortcake. The little bird & black block letters with her name have been at her parties each year. And completed it with some strawberry shortcake balloons & red and white polka dot balloons that we blew up.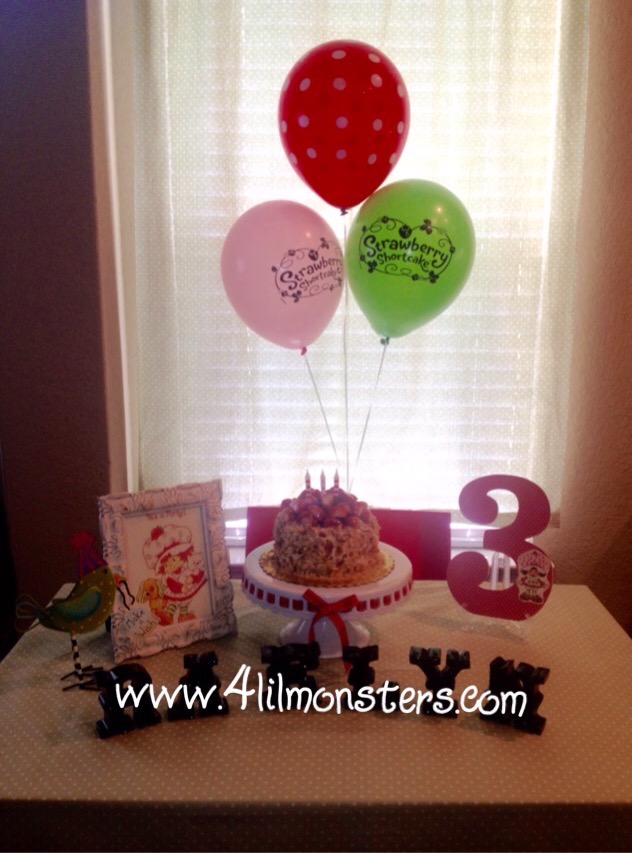 For her cake we picked up a little cake from a local bakery covered in fresh strawberries for her to blow her candles out. And then I made two 9×13 cakes with my Maw-Maw's strawberry cake (a family secret) recipe with my homemade cheesecake frosting. Of course I also forgot to grab a picture of them too.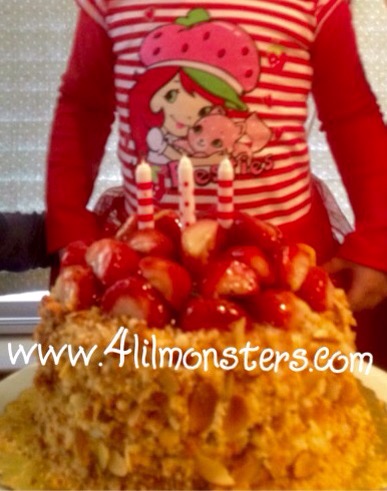 Now on to the goodies!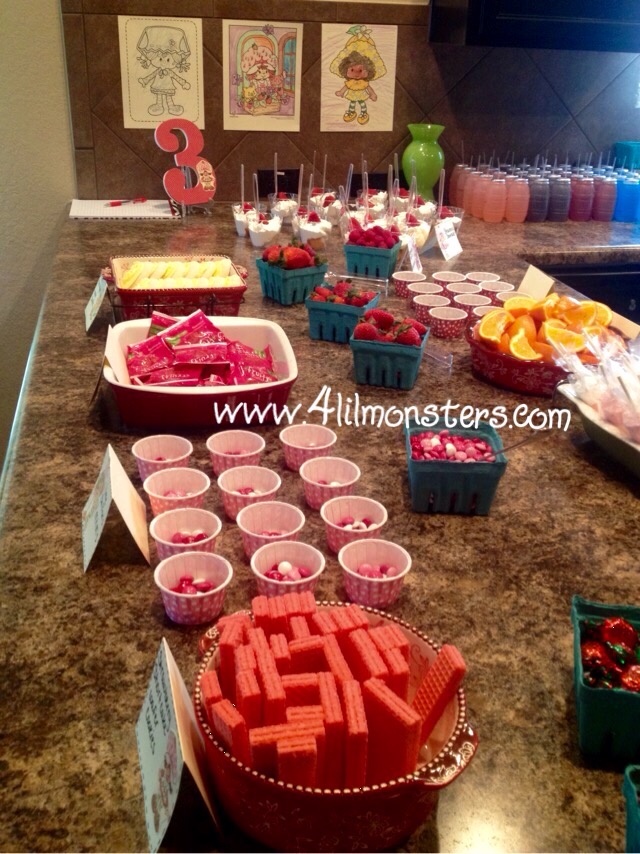 Raspberry Tart's raspberries…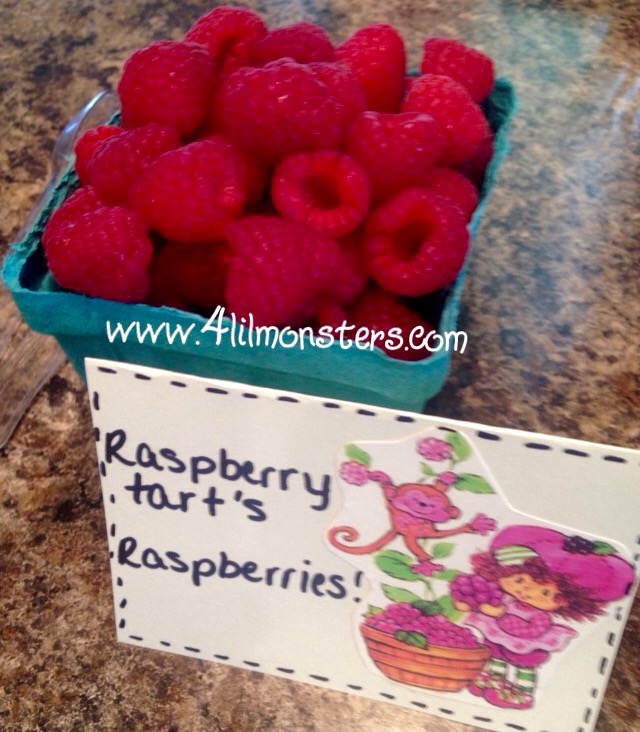 Cherry Cuddler's chocolate chips…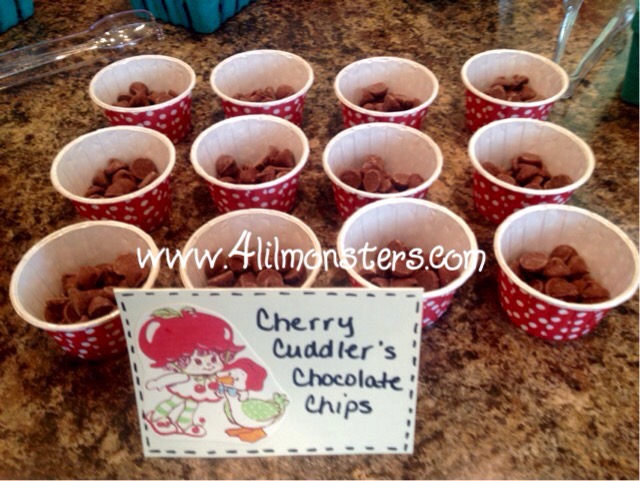 Plum Puddin's marshmallow pops…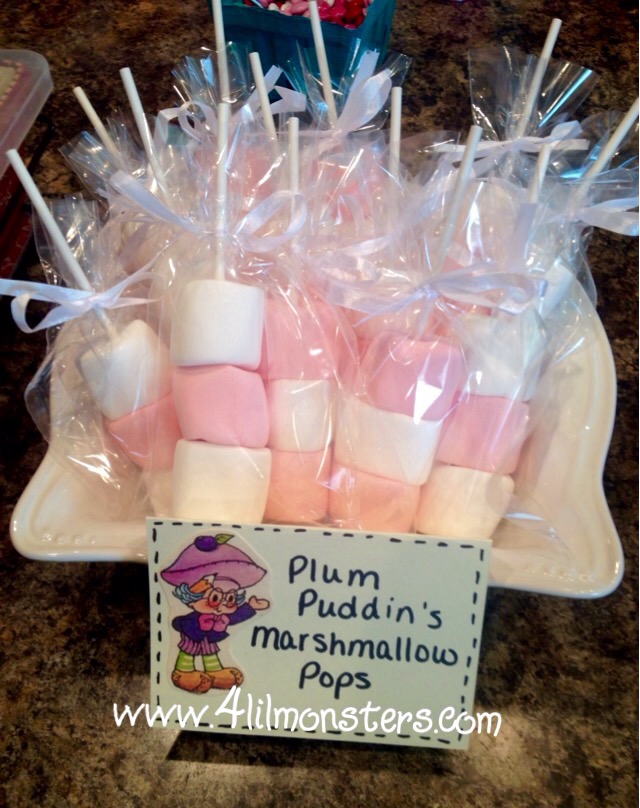 Blueberry Muffins…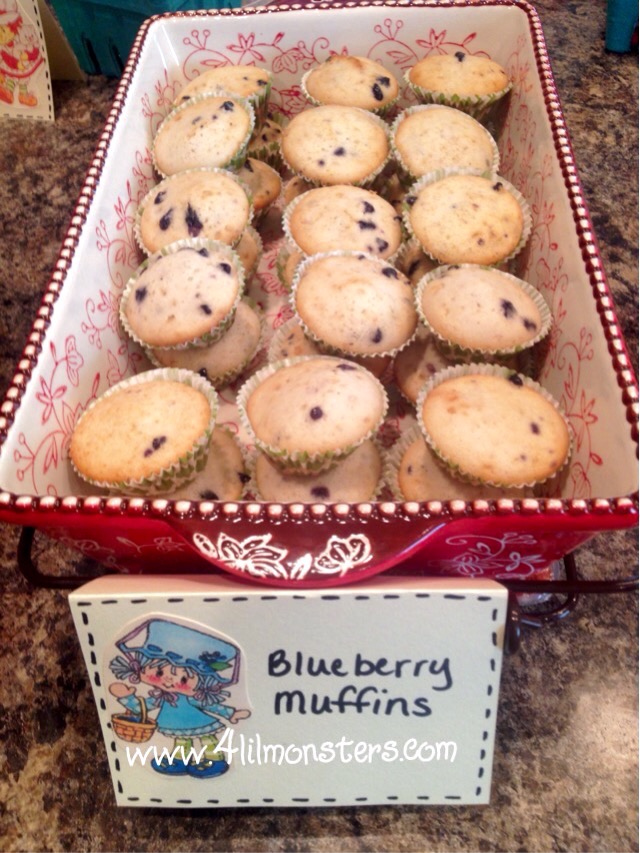 Strawberry candy…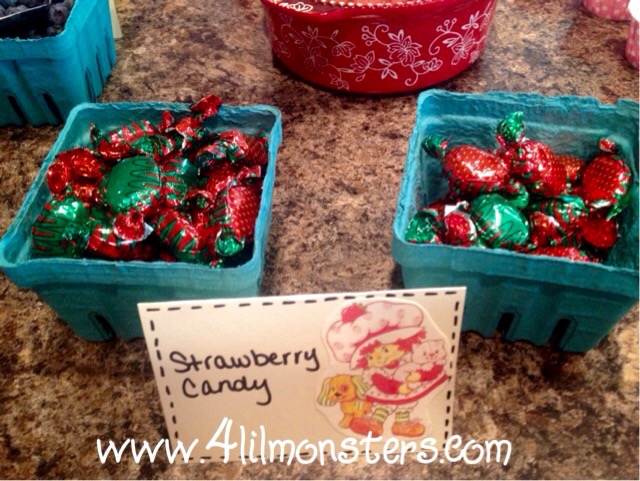 Strawberry fruit snacks…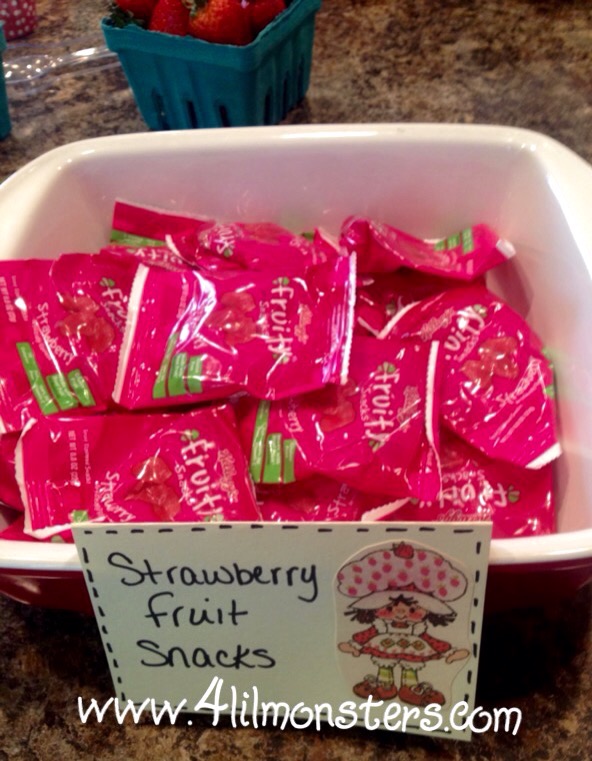 Lemon Meringue's lemon cookies…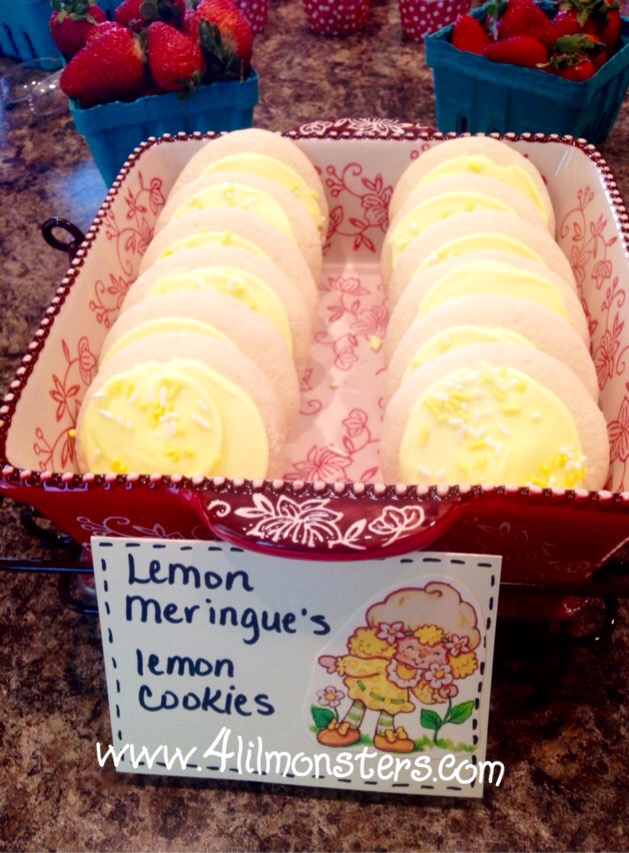 Lime Chiffon's m&m's…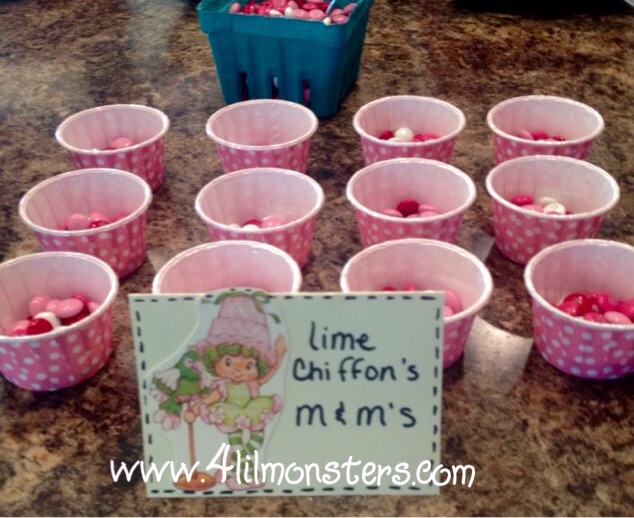 Blueberries…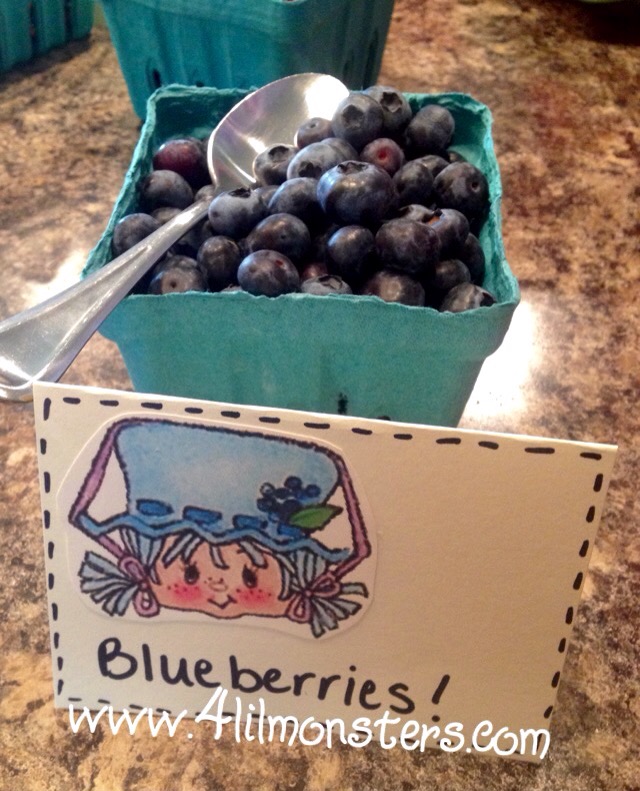 A Strawberry Shortcake party wouldn't be complete without strawberry shortcakes…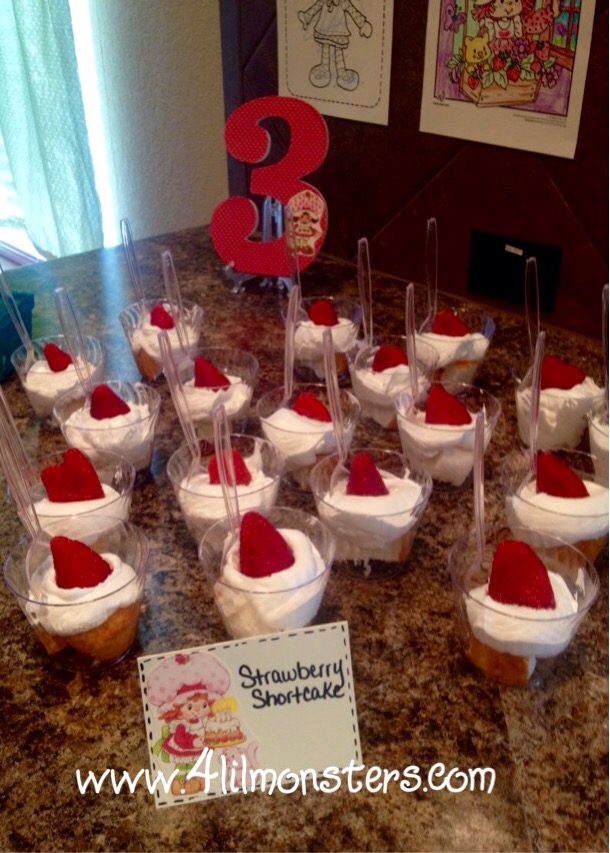 Orange Blossom's tangelo slices…
Strawberry Shortcake wafer cookies…
Strawberry pb&j…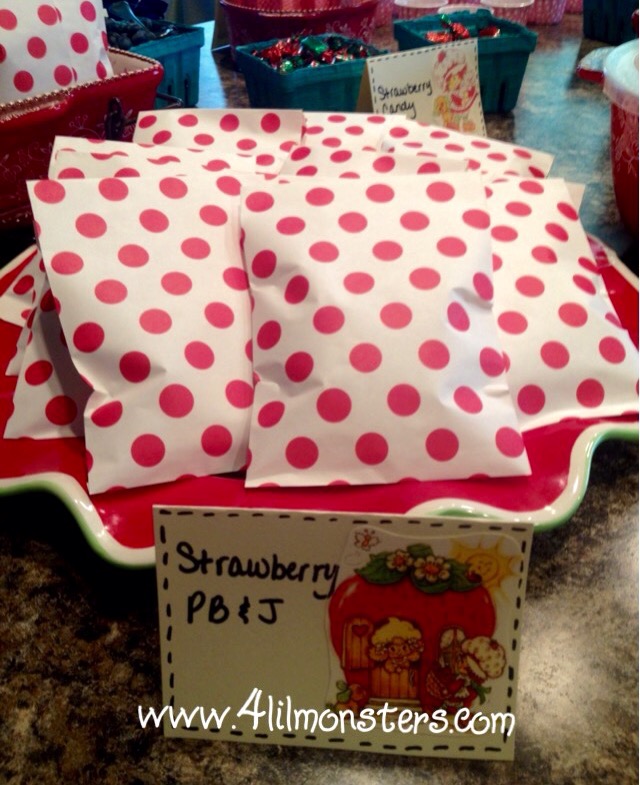 Grape pb&j…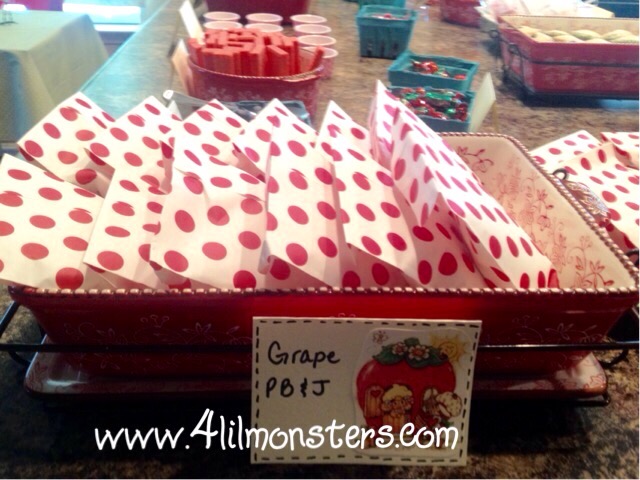 Huckleberry Pie's pink mac & cheese…
Apple Dumplin's juice jugs…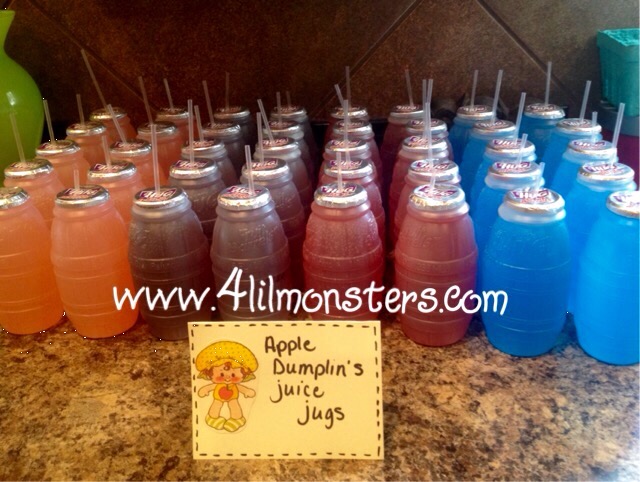 Strawberry Shortcake's punch…
We used red & white plates and napkins…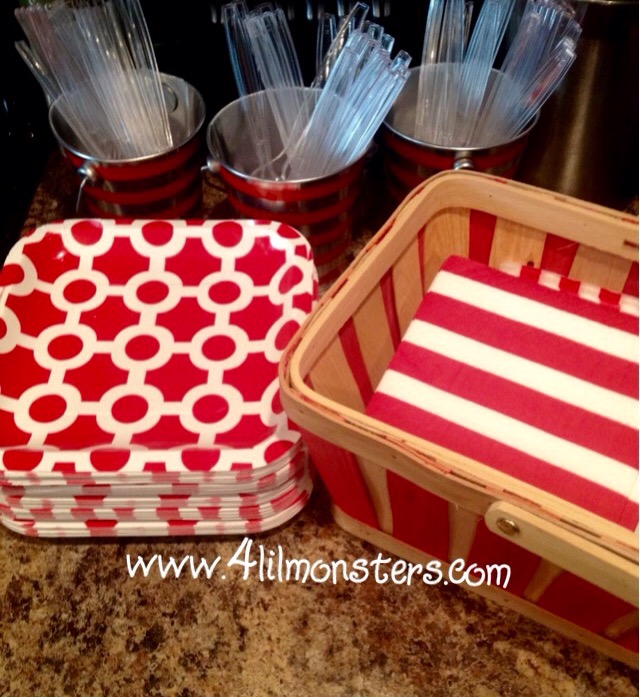 For the party favors we had the homemade party hats…
Some adorable strawberry sunglasses we found at a local party supply store…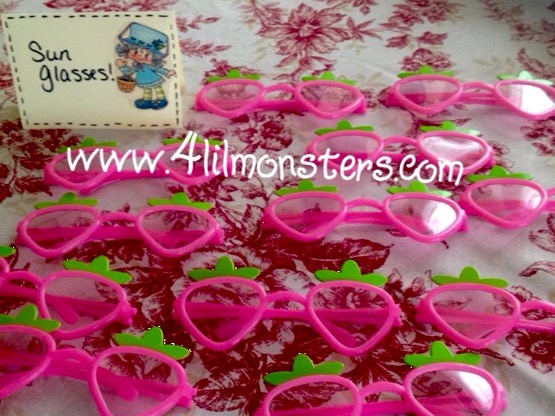 And lastly some homemade jelly and jam that I made with some precious labels my hubster made for them…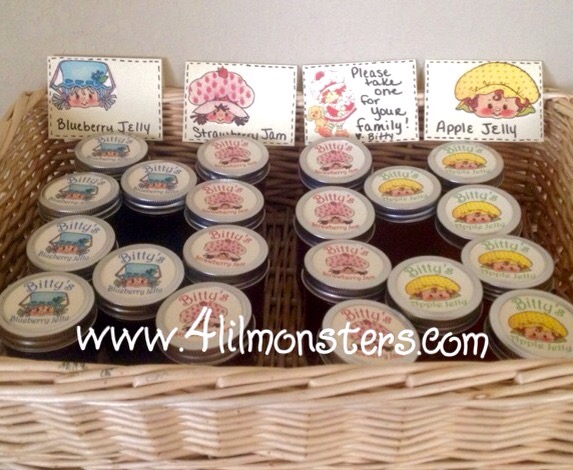 Bitty's blueberry jelly…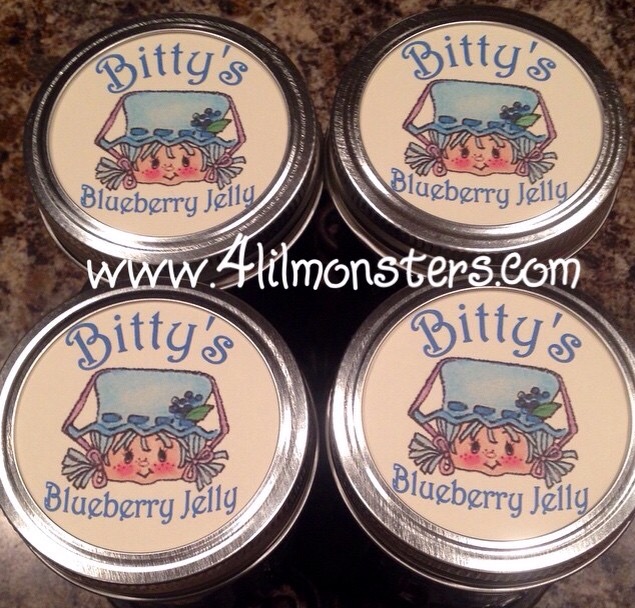 Bitty's strawberry jam…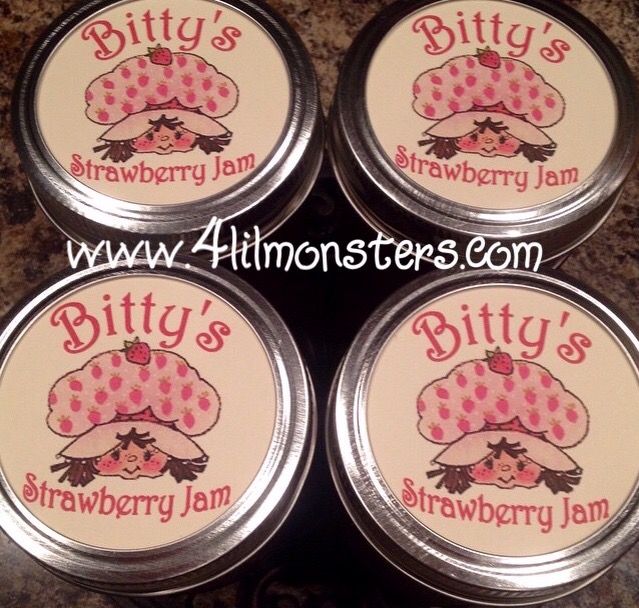 Bitty's Apple jelly…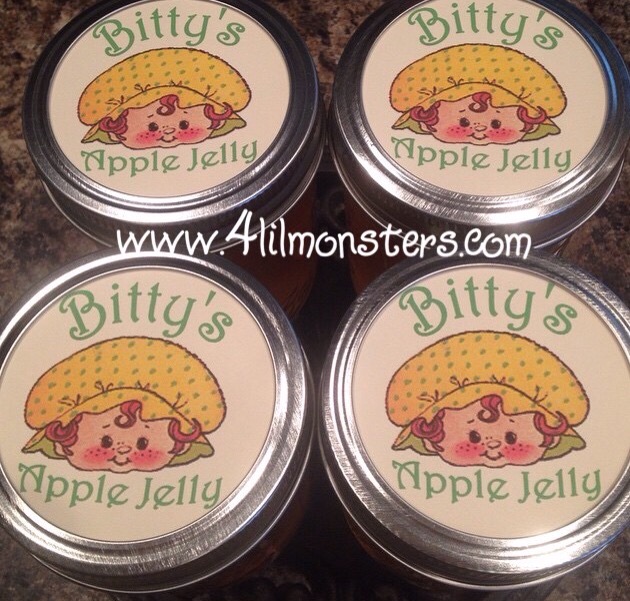 Keeping with the theme we gave her a big box full of strawberry shortcake presents. Dolls, toys, backpack, book, puzzle, clothes, toothbrushes, & a homemade card.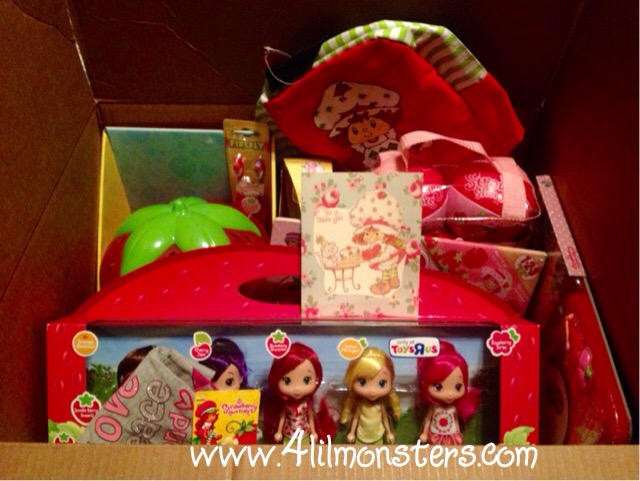 We opted to not have any games. Bitty is going through a shy phase. We didn't invite as many people as we normally would. And just let everyone mingle. Thankfully she handled it well. She of course covered her little eyes and smiled while we sang happy birthday to her. But she was happy to blow her candles out. She was thrilled to play with her sisters, cousins, and friends. And managed to handle being center of attention as she opened her presents. Afterwards she ran and hugged me and said "Thank you for my strawberry cake party I loved it!". Melts a mama's heart! It was a special day for a very special little one spent with family & friends that love her most! We'll be sharing the rest of the pictures from her birthday party privately with our fam & friends. Thank you to everyone that made her day such a happy one!